ROSENBAUER BATTERY EXTINGUISHING SYSTEM TECHNOLOGY
---
INTRODUCING THE "BEST SYSTEM" TO BATTLE EV BATTERY FIRES
---
The Rosenbauer Battery Extinguishing System Technology, or A.K.A. the Rosenbauer BEST System, is an extinguishing system designed to help battle electric vehicle battery fires. Tried and tested since 2018, this system is the safest, fastest and most efficient extinguishing option on the market to cool high-voltage lithium ion batteries and quickly stop thermal runways. Tested on all common cell types (round, pouch and prismatic cells) in the platforms of American and European vehicles!
---
how the rosenabuer best system works
SEE IT IN ACTION HERE,
THEN SCHEDULE YOUR OWN PERSONAL DEMO
With its easy positioning and safe approach, the operator is a secure 25' away from the EV battery fire when activating the system. The piercing stinger penetrates the battery housing, flooding it with 8 gallons of water per minute, creating the equivalent outcome of the traditional 6,000-8,000 gallons-of-water surround-and-drown method. With as little as 500 gallons of water, the Rosenbauer battery extinguishing system technology truly is the BEST way to fight dangerous electrical vehicle fires.
THE BEST SYSTEM consists of two units
This unit is positioned under the electric vehicle and features a piercing stinger that penetrates the battery housing in 8 milliseconds.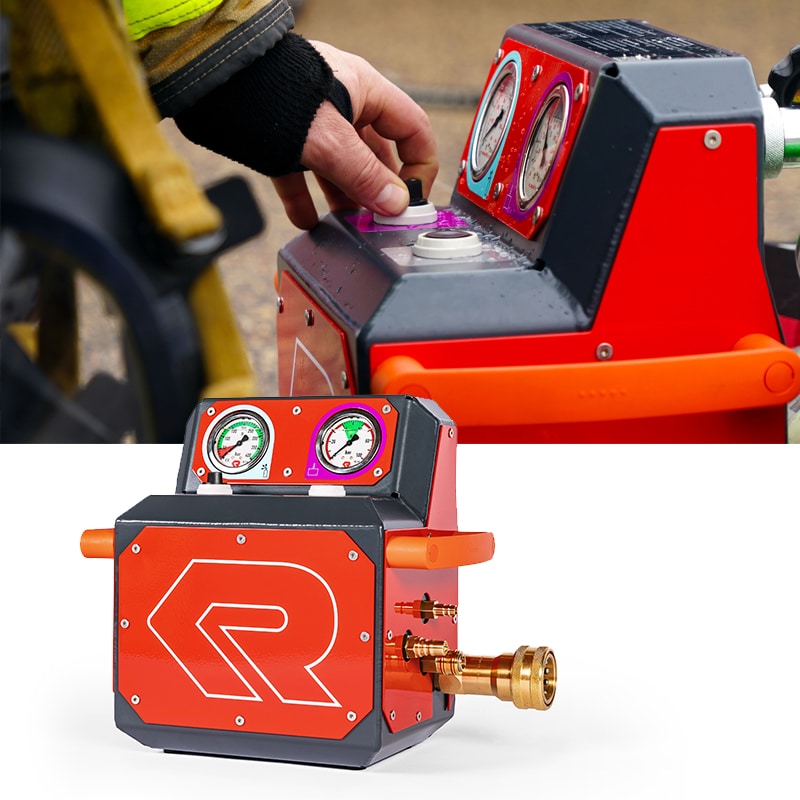 Thanks to a standard hose distance of 26' 3", crews can safely activate the Extinguishing Unit using the Operarting Unit.
WATER FLOW

8 gal/min at 100 PSI
Flow Range from 6.6 Gal at 60 psi up to 13 gal at 215 psi


HOSE LENGTH

Standard 26' 3"


AIR SUPPLY

Standard SCBA Bottle


WEIGHT EXTINGUISIHING UNIT

Approx. 46.3 lb


WEIGHT CONTROL UNIT AIDS

Approx. 48.5 lb


WEIGHT HOSE PACKAGE

Approx. 52.9 lb
DOWNLOAD THE FULL BROCHURE
Upon assessment of the vehicle fire, it is possible that the battery is not affected. Always assume standard operating procedures of a vehicle fire. If there are clear signs that the battery is affected, the BEST tool should be deployed and used as quickly as possible.
The following symptoms are indicators of a battery fire:
Smoke from the battery area* (depending on where the battery is installed)
Jet flame from the battery area*
Thermal imaging camera shows increased temperatures from the battery area*
Unique noise coming from individual cells during thermal runaway (hissing, whistling and banging)
* Depending on where the battery is installed
The extinguishing unit with the piercing nozzle should be placed directly against the battery, where it can be quickly and directly penetrated. If the vehicle needs to be raised to get the BEST unit under, use a car jack, spreader or cribbing to elevate the vehicle; then positing the BEST tool under the vehicle and into position. The unit can also be used inside the cab or from the truck, depending on the location or access to the battery. The extinguishing time depends on the size and architecture of the battery and can be between 10-60 minutes.
Colorado departments are seen demo-ing the BEST system with IKON Fire.
SCHEDULE YOUR BEST SYSTEM DEMO
"*" indicates required fields
---